I'm a guitar player from Den Haag, the Netherlands. I am fascinated by the physicality of the guitar and the wide range of sounds it produces when any of its parts are played with objects, magnetic fields, or my bare hands using improper techniques. I like my music raw and direct, whether it's abrasive, delicate, a combination, or in between, and dancing on the border between music and abstract sound.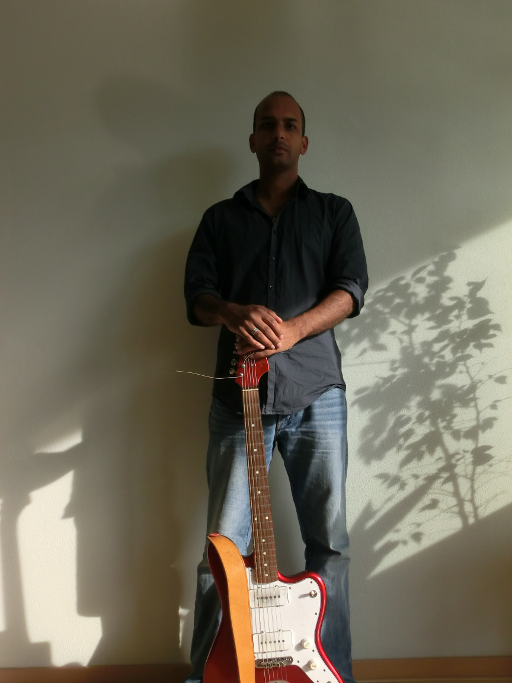 My music draws from a wide range of influences: noise, drones, avant garde composers, North Indian ragas, hardcore, experimental rock, free jazz, and the everyday sounds of cities and nature. I bring this all together into an intense, loosely structured, chaotic mesh that is bathing in the rays of a deep red sun.
Improvisation is a crucial element in my music, but never a goal in itself. I love playing live. Improvising keeps the music fresh and exciting to myself and the audience, and establishes a direct connection between us and the place we share.
I'm musically expressing my current interest in meditation, consciousness and awareness by combining guitar with field recordings, searching for how nature and the world around us connect to our human experiences. To expand and deepen my musical knowledge I'm studying sitar and raga music with pandit Ashok Pathak of the renowned Pathak gharana.
My music took me to play squats, galleries, clubs and festivals from Poland to Portugal, England to Slovenia, Turkey, Chile, Perú, Thailand and Myanmar. Notable places include Supernormal Festival, Incubate Festival, Le Guess Who?, Mózg, Muziekgebouw aan 't IJ, ADM Festival, OCCII, Worm. I've released music on Flaming Pines, Orbit577, A New Wave Of Jazz, Econore, Silver Ghosts, Toztizok Zoundz.
I'm a co-founder and board member of the artist collective Helicopter in Den Haag. There I host the irregular Myriads concert series which focuses on the many facets of and approaches to experimentation, improvisation, musicality and virtuosity, irreverent of any borders. I have an MSc in Computer Science and hold an office job to enable my musical life.
I love to hear from you, get in touch!