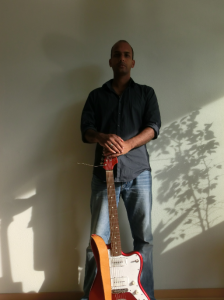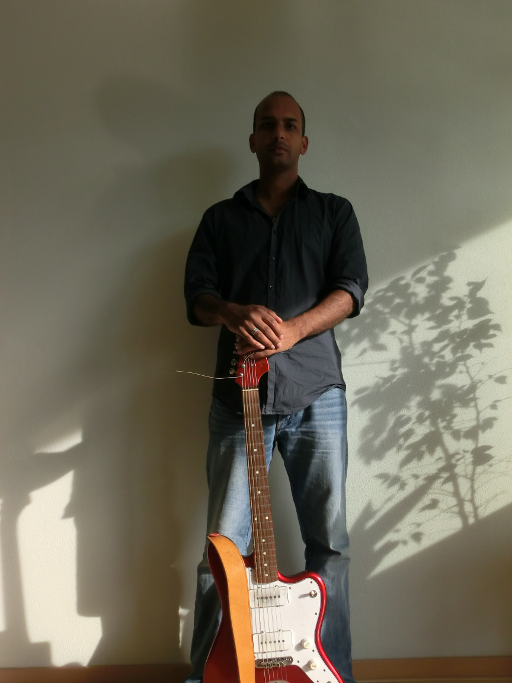 Arvind Ganga is a guitar player from Den Haag, the Netherlands. He takes a physical approach to guitar playing, employing objects and extended techniques to explore new sonic territories. His music draws from influences as diverse as noise and drones, North Indian ragas, experimental rock, and everyday sounds. Using free improvisation he brings these together into an intense, loosely structured, chaotic mesh that is bathing in the rays of a deep red sun. Ethereal noise with a punk-improv attitude. Arvind plays solo, improvises with like-minded musicians, and is active in music/dance improvisation. His music took him to play squats, galleries, clubs and festivals from Poland to Portugal, England to Slovenia, Turkey, Chile, Perú, Thailand and Myanmar.
Notable places Arvind played include Supernormal Festival 2016, Incubate Festival 2014, Le Guess Who? 2015, Mózg in Bydgoszcz, Muziekgebouw aan 't IJ, ADM Festival, OCCII, Worm. He played or plays with Onno Govaert, Yedo Gibson, Rogier Smal, Marialuisa Capurso, Leo Svirsky, Cathy Heyden, Philipp Ernsting.
His music is released on Flaming Pines (AUS), Toztizok Zoundz (NL), Gonzo Circus (be), Silver Ghosts (NL). His latest release, Sri Maha Mariamman, received great reviews from Gonzo Circus, Vital Weekly, Tiny Mix Tapes, Foreign Accents, Yeah I Know It Sucks, and Kindamuzik. See the Press section for details.
"Arvind Ganga plays sometimes with the energy of a punk rock musician (..) but also when it's a bit more introspective (..) he maintains something that is haunted and strange. This is certainly not easy listening music of any kind, but raw and untamed power stuff. I wonder what the guitar looked like after this was recorded? For those seeking out the more adventurous, noisy bits from the world of improvisation." Frans de Waard in Vital Weekly 895
"A seemingly quiet unassuming performer, Ganga looked to shock by stealth, as his music is brutal and shredding. Watching this show with its parade of ever shifting, ever contradictory sounds (..) moments of the show were 'pure granular mate'; in fact so tesselate, and unconnected, and cut and paste were the sounds produced, it sounded as if the guitar was falling apart; with each piece clanking to the floor. The gig was extraordinary in sections; and this lack of linearity in the music meant that the audience's collective head was opened up to just receive whatever sound or conceit was being presented." Richard James Foster on solo show in Incendiary Magazine
Follow Arvind elsewhere on the web. Feel free to get in touch about anything!
[cn-social-icon]
Arvind is registered at the dutch Chamber of Commerce under number 68749937, and at the dutch tax agency under number NL001975829B40.