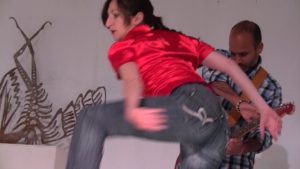 Last update here is from mid september. A lot happened after that, but I've been too busy (or too lazy) to post here. Let's pick it up again, starting with a recap of the last months.
I played a duo with Leo Svirsky at Studio Loos. We did one set with Leo on piano, another with him on the accordeon. We were happy with the results. Videos are available at YouTube: Leo on piano and me on guitar and Leo on accordeon and me on guitar.
I contributed a track to Francisco Lopez' AudioDH project. 250 Sound artists that are somehow linked to Den Haag made a contribution. The project was presented at Korzo theater on september 22, with an algorithm mixing and matching parts of the contributions into one composition.
At the end of september I flew to Slovenia for four shows there. I did one Pulpy Blossom performance together with princess Marialuisa Capurso, and three improvised performances with local musicians. It was a wonderful time, the country is beautiful, the people welcoming and warm, and the music was amazing. Definitely one of the highlights of last year.
Early october I joined a new incarnation of underground cult band Eklin, opening for the mighty France at Worm. We played a Faust&Tony Conrad inspired set. Great to play with these guys. Later that month, I played a solo set at the finissage of an art exhibition in the gallery that is part of Worm.
October also featured three performances of El Otro, together with dancer Manuela Tessi. We played at the ADM Festival in Amsterdam, at Zaal 100 in Amsterdam, and finished at City Art Rotterdam. Felt good to play with Manuela again after a long time. There is a El Otro at City Art Rotterdam of the last show on youtube.
The end of october saw an improvisation meeting of mexican flute player Wilfrido Terazas, together with Josué Amador and Dirar Kalash at Rotterdam's Koffie & Ambacht. An unusual setup of two electric guitars, flute and violin. The sound was probably even more unusual, and we had a lot of fun playing.
Early november I provided live music for a project Manuela Tessi was teaching at Cloud. We had a wonderful day, Manuela is a great teacher and the dancers were of very high level. We had a performance afterwards that was a lot of fun.
The end of november I played a solo show at Muziek in Transitie in Den Haag. First solo show in a couple of months, nice to try out some new stuff again.
Then, finally, at the end of december, was the last show of a mighty year. I organized an improvisational happening in my studio at Helicopter in Den Haag. Kelly Jayne Jones played a set of flute feedback, there was the duo of Miriam den Boer Salmón and Sarah Albu, and finally I played a set with canadians Ben Brown on drums and Rafaël Arsenault on violin. The turnout was above all expectations and the music was great, so couldn't have hoped for a better ending of the year.
And now .. on to the next year!