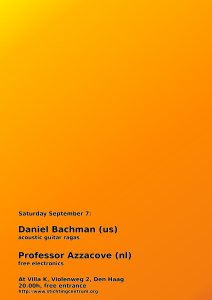 This saturday, September 8 (yes, the date on the flyer is wrong …) Daniel Bachman and Professor Azzacove are playing at Villa K. Doors at 20.00, starts at 20.30; free entrance!
Daniel Bachman (us) is an acoustic fingerstyle guitar player from Philadelphia. From his high-speed fingers emerges Americana-rooted guitar plucking mixed with transformative sitar-like ragas full of heady drones and psychedelic experimentation. Daniel's music takes you on a trip from a drifting rolling melody through a cascade of notes to slower more reflective pieces, or the other way around.
Professor Azzacove is a real hard and tough biker who, after roaming the globe on his Harley, is transcending his fighting days and started making beautiful free & uplifting music, taking from the free spirit of 50s minimal music, as well as the chaos of present experimental music, and whatever he found on his travels that fit in the mix. Riding his electronics like it's going 70 mph on route 66 straight to the next horizon he overpowers with his strong and daring sounds. Original Den Haag dude.