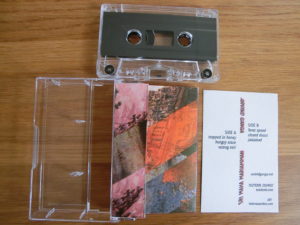 Two new reviews for the Sri Maha Mariamman tape:
".. dive into the trickier realms of free improv for a series of maddeningly skittering lo-fi experiments with guitar and found-objects (..) An interesting collection throughout, and well worth your time. Give it a listen." by Foreign Accents.
"Zes ongemakkelijke schetsen op cassettelint. Binnen in de gitaar rommelt het, in de stemkop zindert het en uit de gemangelde hals springen, vallen en struikelen miniatuurgeluiden, strepen, vegen en krassen. De kamer galmt in grauwe lofi-tinten mee: de weidse blik van Kanga die tegen de Hollandse muren omhoogploegt. De niet altijd even eenvoudig te verteren stadsblues van Dirty Beaches, de snaarexcursies van Tashji Dorji en Six Organs of Admittance onder een blakerende oosterzon: Ganga passeert ze in wandeltempo." Dutch review in Kindamuzik.
Still a few copies left, so get in touch if you want one!